UpoharBD.com
We focus on nicely designed, wellbuilt & highly secured
web, mobile and e-commerce applications.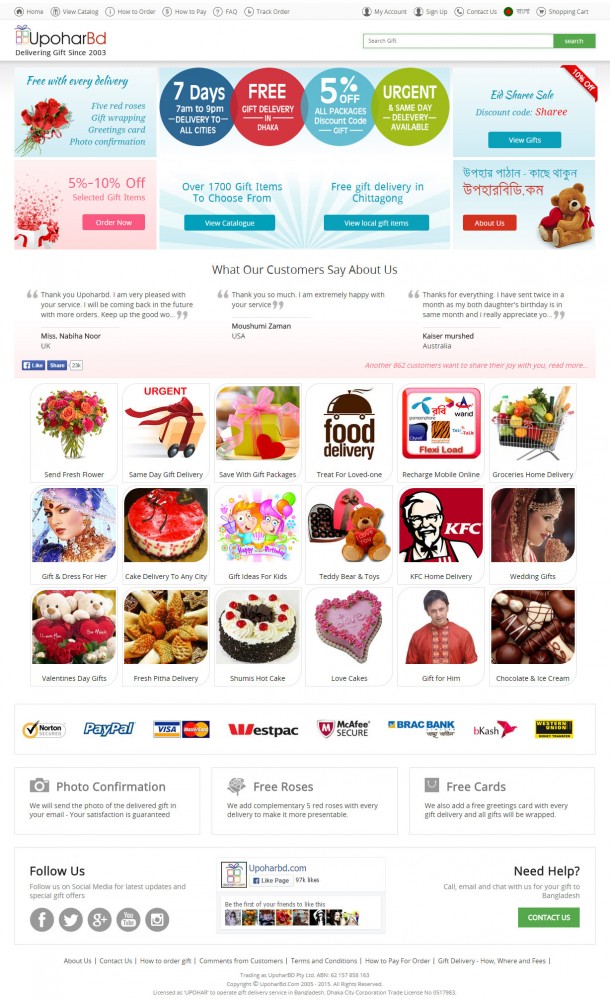 UpoharBD.com
Technology Used:
HTML5, CSS3, Javascript, jQuery
PHP, MySql
CMS: Cubecart
Responsive Web Design Technique
Completion Time:
3 Weeks
What WEB.COM.bD Did:
Business Analysis
New, Custom Web Design and User Interface
Responsive Web Design
Cubecart Customization
Search Engine Optimization (SEO)
About the Business:
UpoharBD.com is a Bangladeshi online gift shop and we deliver gift in Bangladesh. Here you can order gifts (Upohar / উপহার) and flowers online to be delivered to your friends, family and business clients in Bangladesh. UpoharBD is here 24/7 to assist you to send gift to Bangladesh from Australia, Bangladesh, Canada, USA, UK, Saudi Arabia, Qatar, European and Middle Eastern countries. UpoharBD delivers gifts to Dhaka, Chittagong, Sylhet and all other cities in Bangladesh. You can order cake, flower, food items and package gifts for birthday, anniversary, Eid, Ramadan, Valentine's Day, Mother's Day and all other special occasions.
Website: http://www.upoharbd.com/